Master tool
Master tool, the tool for managing shape of I&R part and hole, performs controlling function for perfect coordination when you produce or repair the related tool. It is required in part manufacturing and assembling such as outer skin which is predicted to part change, maintenance door or hinge door & glass frame.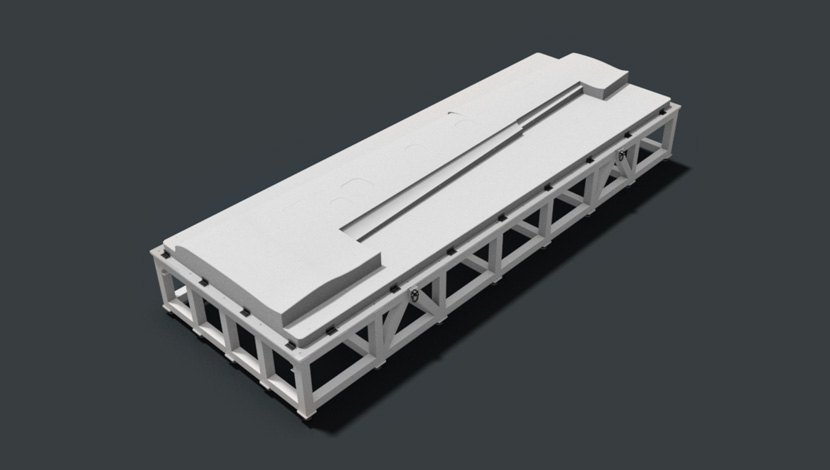 Main material
- Tooling board
- Aluminum
- Steel (Structure)
Main construction
- Master form or Locator
- Understructure
Tool information
- Contour, EOP, I&R Holes management
- Pin-gage for coordination (optional)
- Reference tooling ball hoes for inspection or tool copy (only available on master form)
- Sliding function between structure and master form by thermal expansion.
- Lifting point
(disable fork life component if analysis is 'positioning' or 'formation' based on COG
→ Prevent the crack of master toolhandling)
- Packing box
---
Track record (sample)
Machining tool
Machining tool, which cannot fix by standard clamping method, is tool to minimize work preparation time such as clamping & set-up considering mass productivity. In general, Aircraft part needs at least 2 machining tools for bifacial process due to decrease the weight, Vacuum clamping will be added if prevention of vibration is necessary.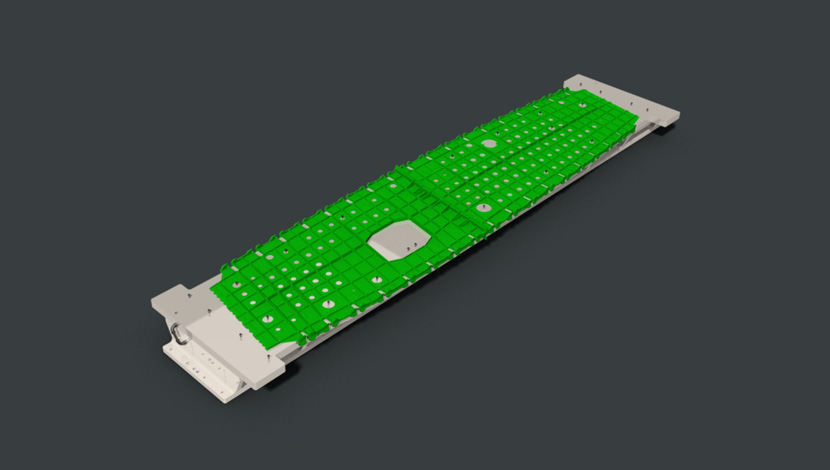 Main material
- Aluminum
- Steel (Riser structure, Modular base)
Main construction
- Milling base (Including Vacuum seal groove & Vacuum unit)
- Clamping-set or Bolts
- Riser structure (Optional)
Tool information
- Stock and 2nd stage setting position management
- Vacuum groove / Bleed line, Vacuum unit, Clamping-set & Contour
(Apply Keensert or Helicoli on Clamping tap for durability.)
- Attachable Bolt hole pattern and positioning Setting hole (based on Modular hole pattern)
- Hole for setting up PGM Local origin
- Riser block (2nd stage - optional)
---
Track record (sample)
Welding tool
Welding tool, the fixturing for Tube ass'y welding which is required for aircraft manufacturing. We perform shape test after positioning of 3D Bending tube and welding. In general, Standard locator ass'y is applied but special locator is applied if the installation area is uncomfortably narrow.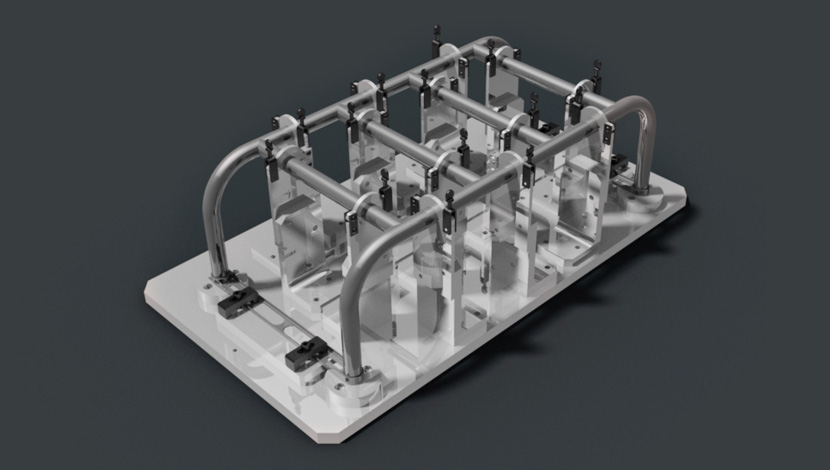 Main material
Main construction
- Tube locator ass'y
- Base plate
Tool information
- Management for Tube center line & End line and Management for Coupling & Flange, Fitting positioning
- Tube clamp ass'y, Locator angle, End-plug & Scriber (Multi used)
- Datum hole for Locator ass'y assembling
- Sliding function for compensation of shrinkage factor to test welding completed ass'y part
- Tooling ball adapter for tube clamp ass'y assembling / test
---
Track record (sample)
Bonding tool
Bonding tool, the fixturing for lay-up of aircraft composite part and assembly bonding process. We enable the verification of ply pattern and lay-up by laser project equipment. In general, aluminum mold is applied for small project but graphite & invar mold is applied for compound surface for big project.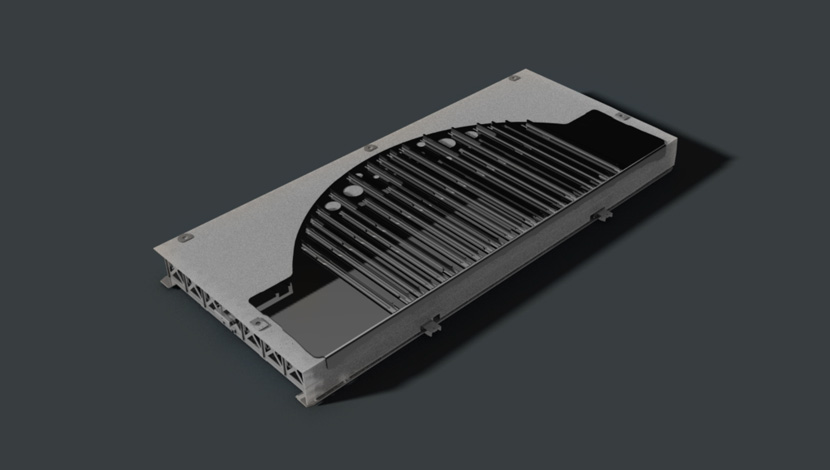 Main material
- Aluminum (appropriate for a simple curvature of middle or small shapes)
- Graphite (thin, appropriate for a complex curvature of large shapes)
- Invar (thick, appropriate for a simple curvature of large shapes)
- Steel (Similar with Invar mold, efficient in cost reducing → appropriate for a proto type)
- Nickel Electroforming (curvature compensation by the spring-in is available but it increases the lead time
& cost)
Main construction
- Face sheet or Surface mold
- Under structure (Frame type or Egg crate type)
- Side locator (Assembly bonding tool only)
Tool information
- Tool surface, EOP, Tooling hole management for composite part
- Provide EOP & EOL line, Tooling hole, Laser target hole, Ply orientation
- Caul plate for illumination management of local bagging face (Optional)
- Uniform mold thickness (for heat-up uniformity, Nominal Thk' ± 20%)
- Scaling considering mold thermal expansion
- Airflow Cut-out on under structure for smooth curing
---
Track record (sample)
Assembly tool
Assembly tool, the fixturing which is required to sub assembling or final assembling aircraft parts, is separable into several steps. In general, we perform drilling and riveting & fastening after determine assembling positions for direct parts but there are various assembly tools which play indirect roles such as product handling and holding.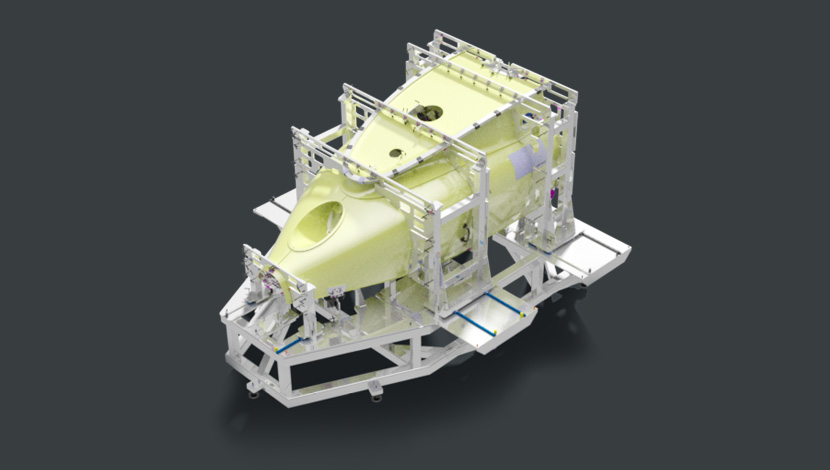 Main material
- Aluminum
- Steel (Structure)
Main construction
- Locator (Fixed type & Removal type)
- Contour board
- Structure
Tool information
- Contour, EOP, Tooling hole management and drilling to determining position for assembly
- Provide Contour board, Index / Drill / Clamp / Tooling hole locator
- Removal locator for preventing interference
- RP & ERP for production/test and period inspection
- Space arranging for part loading
- Anti-transform linear sliding function for mass assembly tool
---
Track record (sample)
Miscellaneous tool
Miscellaneous, the fixturing which plays indirect roles but direct functions for aircraft part and assembling process, is produced for convenience such as transportation / working support. In general, it is made as special shape/function for backing up the fixturing and the process for aircraft manufacturing.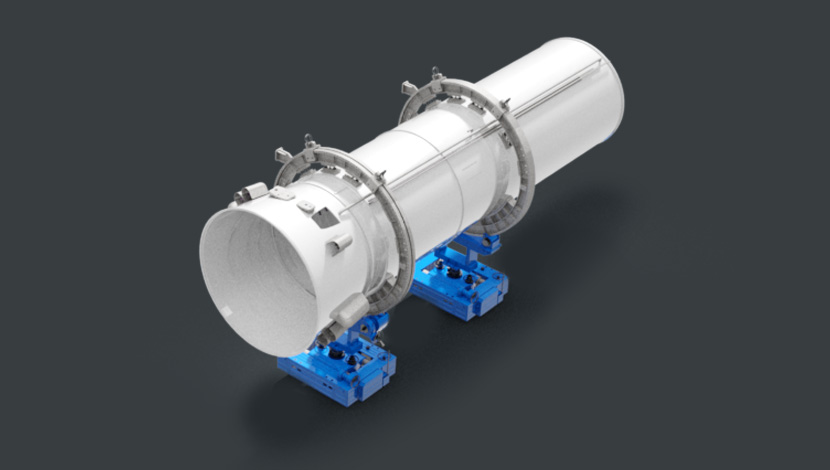 ---
Working platform
- Function

Providing stable approaching function for FunctionSub or final assembly

- Main material

Steel (or Aluminum)

- Main construction

Structure, Scissors lift, Ladder, Floor & Folding floor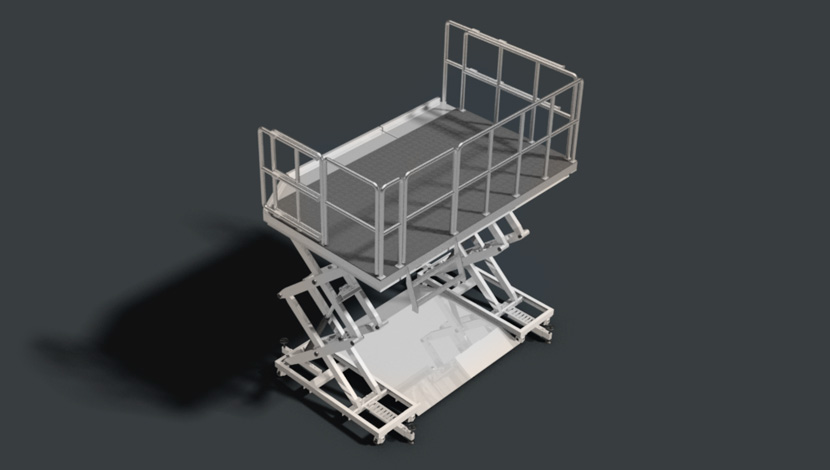 ---
Dolly
- Function

Providing stable transporting function for parts and assembly which are expected to
be at risk in general transporting function

- Main material

Steel (or Aluminum)

- Main construction

Structure, Contour board, Protection cover (Optional)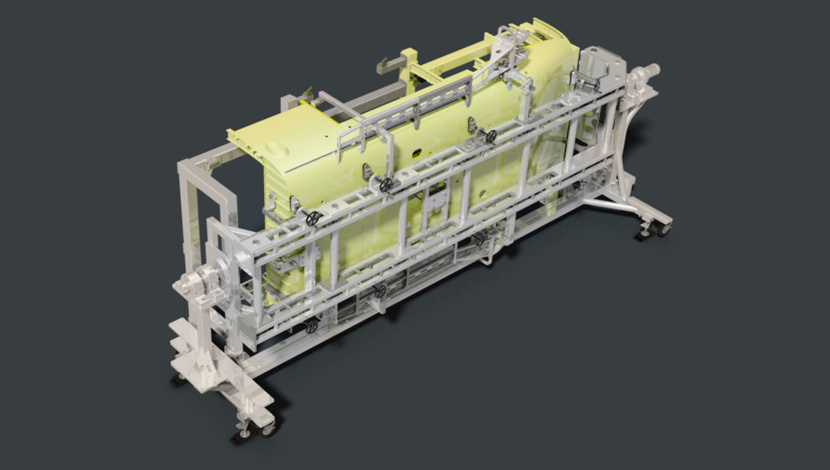 ---
Sling
- Function

Providing stable handling function for products and fixturings by a FunctionCrane

- Main material

Steel

- Main construction

Structure, Connecting components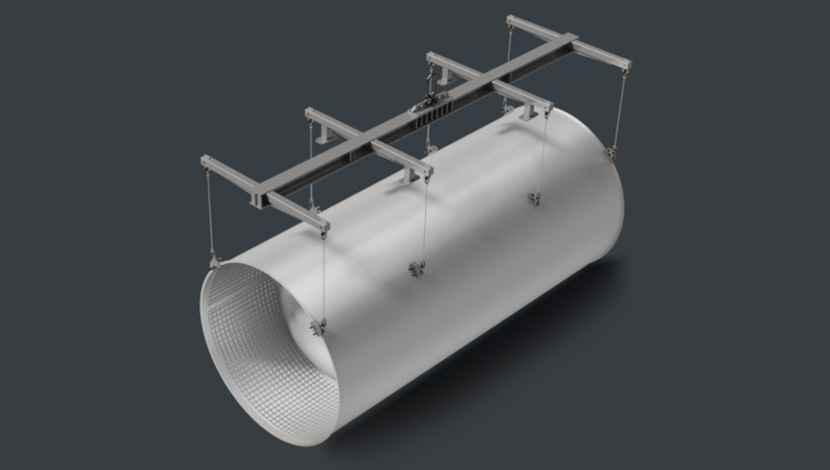 ---
Ultrasonic inspection tool
- Function

Providing stable holding function for ultrasonography of FunctionComposite

- Main material

Aluminum or Stainless steel

- Main construction

Structure, Holding & Clamping locator